NOOOO!!!!
my HEART!!

my Brasil lose to Netherland!!
how the hell?!! this can't be happening!!
earlier on the 1st half i was getting very excited as Robinho scores the opening goal for the match early at 10th minutes..
and the 1st half do satisfying to the fans.. yeah!
as the 2nd half goes on.. something terrible happened to the team for Felipe Melo scoring an own goal on minutes 53 where
Sneijder crosses in from deep.. Cesar comes and gets nowhere near it, the ball glances the head of Felipe Melo and lands in the bottom corner
..
chance of winning decreased as this happens..
but still, i was cheering for them as they still got hopes to win the game..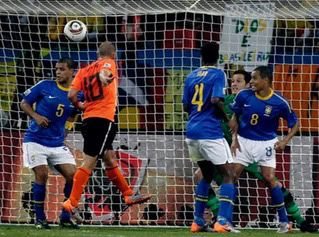 the time goes on until on minutes 68, Wesley Sneijder scores a goal from a header..
for now i still got the spirit to cheer for them..

still hoping they'll win the match..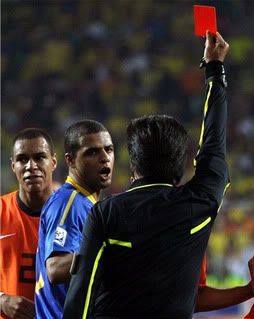 my hope is crushed for good when Felipe Melo was sent off when
Referee Yuichi Nishimura of Japan fly a
RED CARD
on minutes 73..
what happen on the rest of the match?
the Netherland attacked with comfort as Brasil only play with 10 players..
Netherland moves to the semi-final..

Brasil will always be in my heart..
P/S : anyway.. what had past will remain the past.. for now!!
Go ESPANA!! Go!!